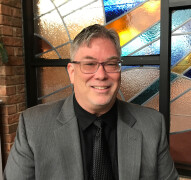 Roger Larsen
Senior Pastor
E-Mail:

Roger Larsen was born and raised in Southern California. He joined the Adventist church via evangelistic meetings and from there went to college in Northern California. While in his sophomore and junior years Roger served as a student literature evangelist for the Idaho Conference.
He married his wife of 28 years, Denali Dena, in 1989 and then returned to Idaho to canvas full-time for the next three years. In 1991 he was called to be the publishing director of the Montana Conference but decided instead to return to school. He became a Bible Worker, and graduated from Weimar College with a BA in Pastoral Ministry.
From there, the Larsen family journeyed Midwest to the Kansas Nebraska Conference and Roger served as pastor in districts in Great Bend KS, Alliance NE, Lincoln NE, and Wichita KS. In Wichita he also taught 7th through 10th grade Bible. During their time in the KS-NE Conference, their daughter, Chantal, was born and two and a half years later they had a son, Brett.
Following the Wichita years, Roger pastored at Sunnydale Academy Church in Missouri.
The Larsen's feel blessed to be back in the mountains and serve at the Hagerstown Seventh-day Adventist Church. Roger enjoys playing various instruments including guitar, mandocello, and mandolin. He loves Indian food, swimming, working out, and good times with family and friends.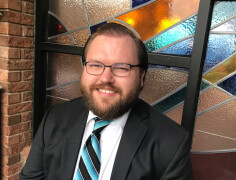 Ryan Comeau
Office: 301-733-4411
E-Mail:

Pastor Ryan grew up in a suburb of Silver Spring, Maryland. Raised in the Seventh-day Adventist Church, he enjoyed being involved in church functions such as Adventurers and Pathfinders, Bible Studies and Skit Teams, and Vespers and Chapels. Being part of Campus Ministries in high school, he felt God call him to pastoral ministry. Studying Theology at Andrews University, God helped Ryan become Pastor Ryan! While working as Associate/Youth Pastor here at Hagerstown, he is still finishing up his Master's Degree in Divinity, also from Andrews University. He is married to Nikki, and they enjoy working together in ministry. Pastor Ryan enjoys seeing God work through the lives of young people, and is humbled and honored that God has called Him to be a part of that process. Outside of pastoring, he enjoys getting to know people, particularly through tabletop games. Feel free to swing by the office! Let's chat